New Vertigo 2018
Vertigo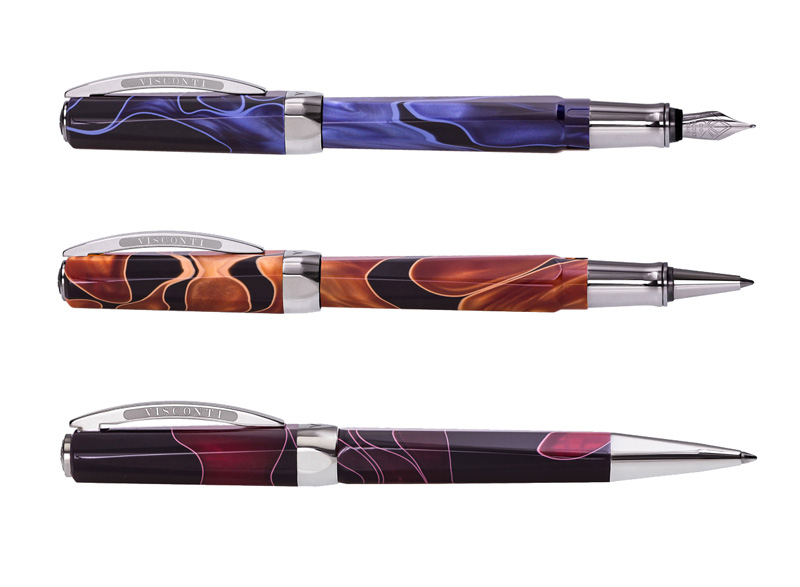 Visconti has the ability to create recognizable and long-lasting pen shapes, as in the case of the Opera collection, where materials and dimensions varied in a decade of production, but the shape and style of the pen remained the same and unique.
While with Vertigo pen, Visconti's designers have created a model which doesn't hide its inspiration to company's best traditions, but at the same time Vertigo brings a new perception.
The special manufacturing of the cap and of the body creates reflective plane surfaces which run one after the other, causing a continuous change of the points of view, with a perspective's changes which almost lead a sense of vertigo.
For the first time in Visconti, this pen combines the convenience of the magnetic lock with a recall system indexed between the body and the cap, designed to keep in line the 8 alternating inclination levels which make the design of the to be so unique.
About the nibs we have several important news:
- Vertigo s the first pen of Visconti to be available with more than one nib type;
- one nib is the new high-performance steel nib of Visconti: nice shape, and one of the best performance in writing;
- the other new nib combines a classic steel structure nib with solid 14KT gold elements combined with a steel structure, thus joining the preciousness and flexibility of use of gold to the perfection of steel.