Pineider - La Grande Bellezza - Collezione Pietre Dure
Pineider - La Grande Bellezza - Collezione Pietre Dure - 2018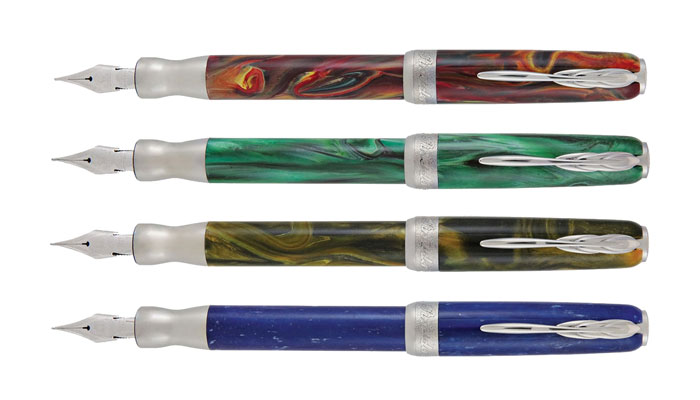 Beauty is an aesthetic canon capable of rendering a product eternal.
"La Grande Bellezza" pen exploits over thirty years of experience in a balance of form and proportions, that make it practically perfect, classic, never excessive.
The 2018 collection was inspired from the gemstones and the colors we have created recall very realistically the semiprecious stones that in the past have been imitated using celluloid material.

The Material :
Celluoid has been substituted with a new material , resin based , but with an high percentage of marble dust.
The marble dust was added for three reasons :
Make a harder compound to increase the shining of each colors with an high gloss polish.
Increase the specific weight of the material to make it more consistent.
Spread the colors range being the marble easily colored from the primers of the resin.
The result is incredible:
The black color is so deep that any other pen looks like just dark.
Lapislazzuli or Ematite can be mistaken for the real stones, just like all colors of the entire collection.

The quill nib :
A brand new nib was developed in 2017 and after long test is now ready for the release.
Following the world trend for flexible nibs, The quill nib can be defined as iperflex with an excellent memory.
The project was made to create a nib for daily writing and not for calligraphy whose performance are quite different.
The purpose of the new nib is clear: just writing pleasure for everybody, also for beginners, but do not forget that the nib is the extension of the hand and do not need any pressure to write.

The box is an extremely elegant Pineider escritoire, that includes a ream of Pineider's world renowned cards and envelopes.
Pineider has patented a new pen locking system in its top-of-the-range models, combining the traditional appeal of the screw top with the immediacy and safety of magnetic closure.
Everyone at one time or another has had a badly closed pen slip in their pocket and stain a costly suit. The trouble with traditional closure is that it gives no indication of whether the pen is properly closed or not, so it's only too easy in a moment of absent-mindedness to replace a pen whose cap has not been tightened as far as it will go.
In Pineider's patented system, however, the polarization of the magnets permits soft opening and even more satisfying closure, allowing you to open the pen gently or else to watch it roll between your fingers until you hear the closing click.

The Clip: a goose quill
Since the fall of the Roman Empire the Goose Quill was the main writing instrument. The civilization of the modern World was written with the Goose Quill, from Magna Charta to the American Declaration of Independence. The Gigas Codex, the greatest book of the Middle Ages, which required 30 years of flawless work, was called "The Bible of the Devil" because of the hard work needed to complete. Esoteric sources associate the Quill with hope, balance and good luck.
The Goose Quill, chosen by Pineider as its distinctive trademark, is interpreted freely as a function of each pen destined to receive it, fulfilling the fundamental function of holding the pen and allowing it to make a beautiful showing of itself. The Pineider Quill will so become classic, young, technological, futuristic, always respectful of the principles of "Human Design".
A bouquet of Quills will express all the creativity of the Pineider Brand, always fitted with an impeccable mechanism, which will facilitate its use on any type of fabric.

Technical specifications:
Collection: Fountain pen, Rollerball, Ball-point, Pencil
Material: Compound of resin and marble to imitate gemstones
Nib: Quill Nib 14 kts 585 iperflex
Closure: twist magnetic lock
Ring: engraved with calligraphers slang
Clip: activated quill in marine steel
Filling mechanism: converter / cartridge
Packaging: Pineider escritoire with matching paper and pen