Delta Anniversary 1982-2022
Delta Anniversary 1982-2022 "39+1"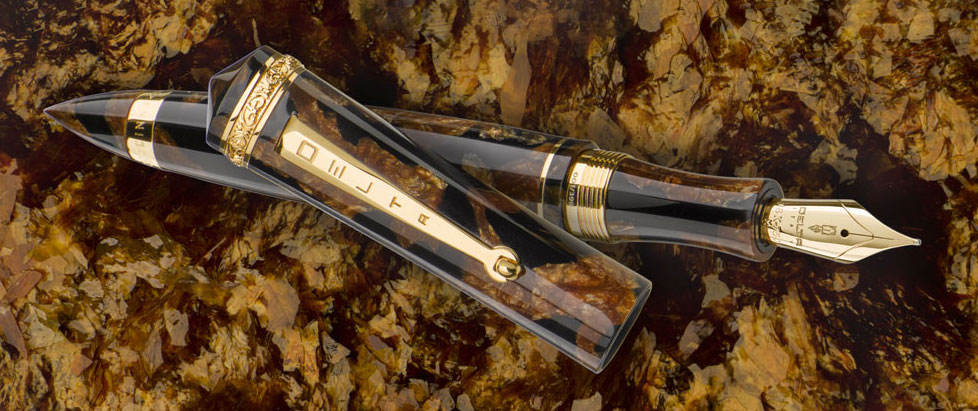 DELTA, Artigiani della Scrittura…. (1982-2022)
To celebrate 40 Years….
The "39+1" fountain pen collection is made to celebrate the return of Delta, Artigiani della Scrittura, to the international market of fine writing instruments.

It is a limited edition of only 399 unique pieces, made of rare celluloid with a very original design.
It brings with it an innovation represented by an unprecedented weight balancing system, just patented under the name "Write Balance", designed to offer the user a personalized comfort.
At the barrel end of the "39+1" fountain pen is a threaded cone, and within that cone is a two-gram gold plated removable weight.
With the weight inserted into the cone, the fountain pen's balance is toward the back end, meaning that the user's hand is more involved in the writing.
This center of gravity is often preferred by calligraphers and lettering artists for greater control of the fountain pen's movement.
With the weight removed from the "39+1", the balance shifts toward the front of the pen, meaning that the pen is doing the work, not your hand-great for long writing sessions and more casual writing.
The Weight "Write Balance System" offers the possibility of being able to choose the best personal balance according to one's grip and writing characteristics.
The different sensations could appear minimal, but it becomes significant in terms of feeling, pleasantness and comfort of use, especially during long writing sessions.
Delta fountain pens are known for their responsive writing experience, and the "39+1" is no exception.
The cartridge/converter/eyedropper-filling fountain pen has an 18-karat gold Delta nib engraved with the Delta signature logo, available in Extra Fine, Fine, Medium, Broad and Stub 1.1 widths.
Aesthetically, the new Delta "39+1" is an extraordinary combination of technical consideration and artistic sensibility.
The mottled brown and black celluloid is hand turned and highly polished, matched to gold-plated appointments. The barrel features a deeply curved grip section leading into gold-plated threading.
From there, the barrel flares into a rounded body that feels substantial in the hand, ending in the severe conical blind cap that contains the two-gram Weight Balance.
The postable, straight-bodied cap ends in a taper, a common element of Italian pen-design.
The upper end of the cap is enriched by a 925-sterling silver gold plated band, which is engraved in high relief an ancient decoration from the Pompeian era, a typical design showed on all the most prestigious fountain pens produced by Delta during the past years.
A single gold-plated barrel ring toward the section marks the place where the barrel twists off for the triple filling, and a gold band at the conical tip is engraved with the edition number.
The gold-plated roller clip features DELTA logo engraving. The new Delta "39+1" fountain pen is limited to 399 numbered editions.