Lord of the Rings Doom
Lord of the Rings Doom - Il Signore degli Anelli Doom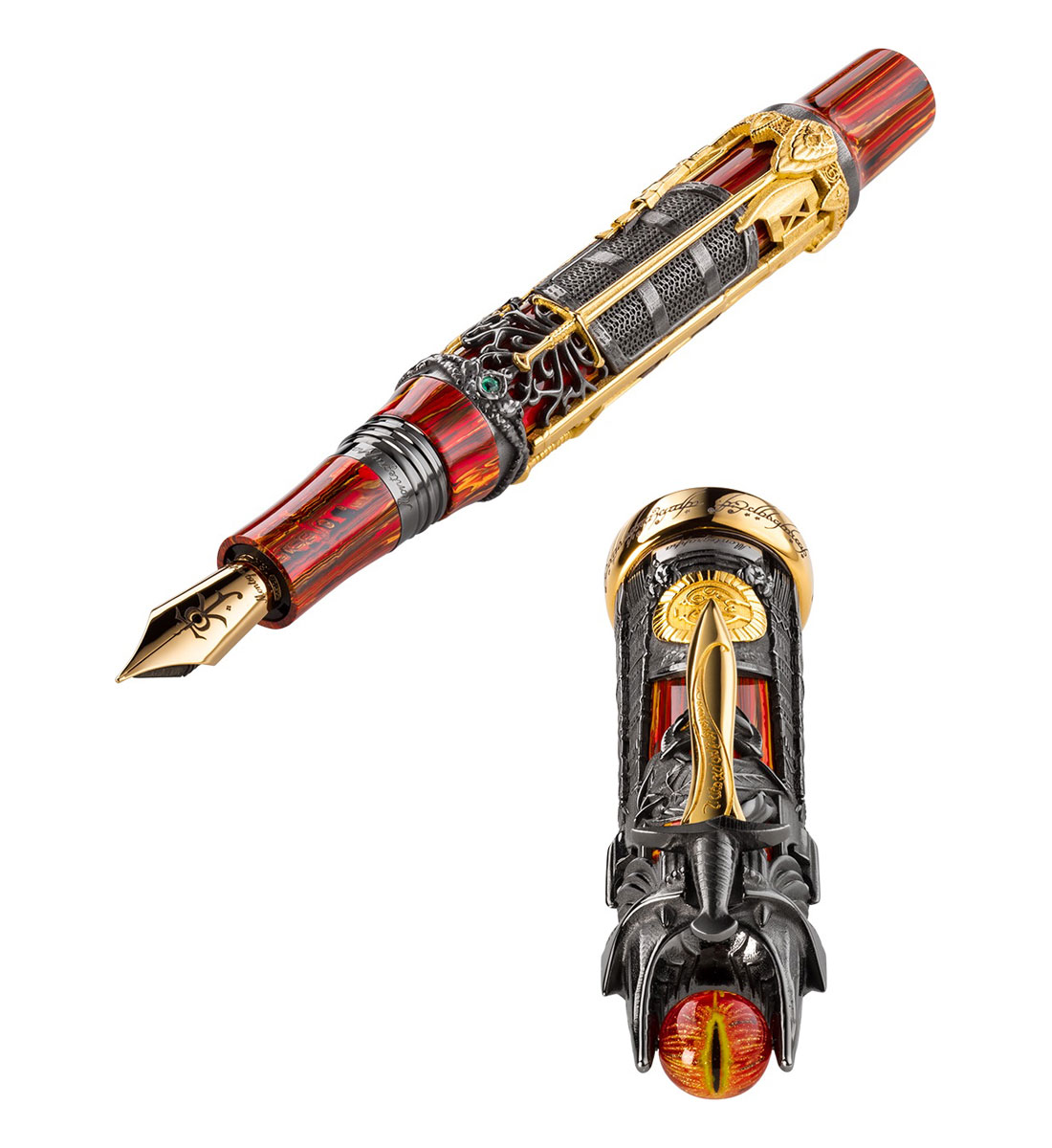 The Lord of the Rings: Doom is produced in a limited edition of 137 fountain pens and 137 rollerballs.
Handcrafted in sterling silver and handcrafted Montegrappite resin, The Lord of the Rings: Doom pays homage to the richness of the mythological tale and its subsequent film adaptation in painstaking detail.
Over two dozen figurative elements inspired by the big screen trilogy are sculpted on the elaborate outer surface - plated in ruthenium and yellow gold.
The fountain pens are equipped with an 18-karat gold nib, powered by the patented ratchet loading system and are supplied with a personalized bottle of black ink.
All the metals used in the creation of The Lord of the Rings: Doom were produced using the ancient lost-wax casting technique, a process that belongs to the goldsmith tradition and of which Montegrappa is a master.
The use of this particular decorative technique has helped to elevate the status of Montegrappa products to luxury items since 1995 when, for the first time, it was proposed on the Dragon pen, one of the most iconic models of the Bassano manufacturer.
In recent decades, this art has defined many of Montegrappa's most sought-after creations.
• Among the many characteristic elements of this design stand out: the "eye of Sauron", hand-glazed and suspended on the Tower of Barad-dûr .; the pocket clip that takes the form of Sting, the elven dagger worn by Frodo Baggins, with a vermeil blade; a green zircon that pays homage to the ring of
Barahir worn by Aragon, and the exact replica of the One Ring - an element that obscures everything else - which can be removed and worn.
The inclusion in the design of the ring forged by the Dark Lord symbolizes the power of writing and the eternity of high craftsmanship.
The Lord of the Rings: Doom sterling silver sheath is mounted on a hand-turned core of handcrafted Montegrappite resin.
For this edition, Montegrappa has created an exclusive blend of its proprietary material using an artisanal process that allows both to obtain particular nuances of texture, similar to lava, and to reduce the waste of material and energy normally associated with the use of conventional industrial acrylics.