The Lord of The Rings L.E.
The ord of The Rings L.E.
A pen to dominate them all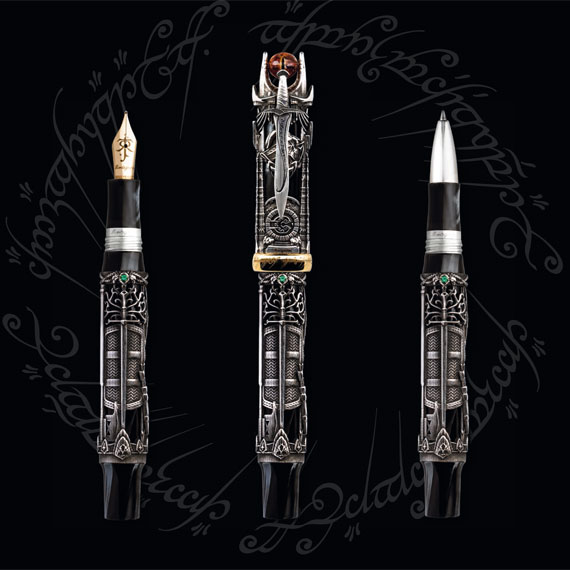 One pen to rule them all. Our tribute to J.R.R. Tolkien's beloved trilogy is made with a level of craftsmanship to rival the great Elven-smiths of Eregion.
The Lord of the Rings Limited Edition is a magical creation of lost-wax casting that celebrates imagination, creativity and heroic journeys at their finest.
Armaments and regalia belonging to the Fellowship of the Ring make up the elements of the barrel.
Gandalf's staff, Aragorn's sword and Gimli's axe are just some of the icons contained within a structure crowned by an emerald (Cubic Zirconia for Sterling Silver) set in the emblem of the White Tree of Gondor.
The cap's major features are a hand-enamelled Eye of Sauron suspended in the Tower of Barad-dûr, and a clip resembling Frodo's Elvish blade, Sting.
In place of a conventional capband sits a removable replica of the One Ring, inscribed with Tengwar script and made from 18k Gold (gold-plate for Sterling Silver).