Prince Albert II of Monaco Foundation: Ocean Collection
Montegrappa - Prince Albert II of Monaco Foundation: Ocean Collection - Limited edition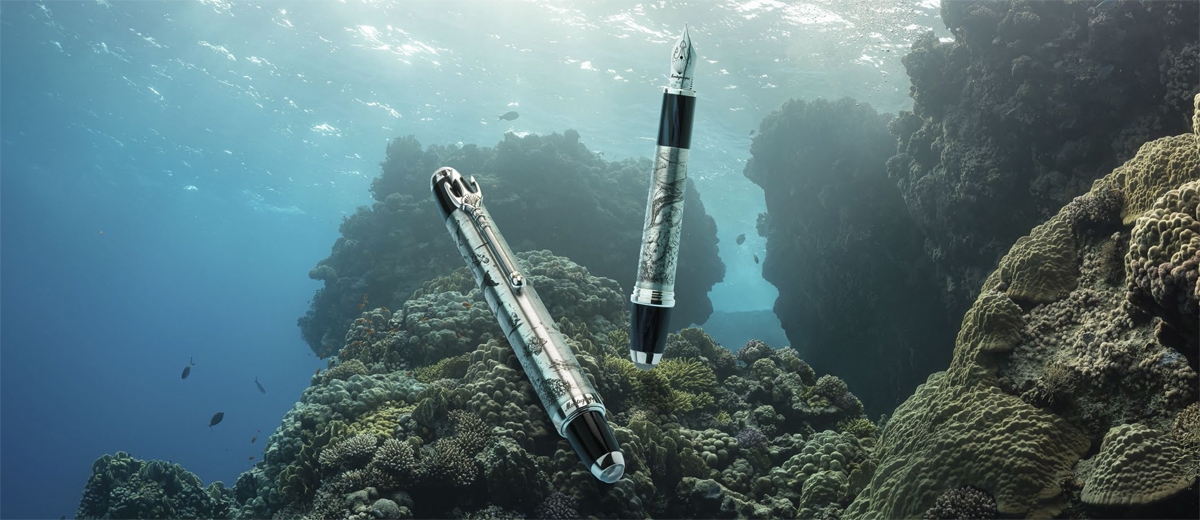 The first breathtaking collaboration between Montegrappa and the Prince Albert II de Monaco Foundation showcases the fragile beauty of the ocean and enhances its desperate situation.
Made of silver, celluloid and glass-zirconia, the exclusive Solidarity Edition combines a royal presence with a fundamental message:
to save our planet, we must have the courage to face reality.
The detailed engravings on the cap and barrel in satin silver contrast our vision of ocean health with tragic reality.
Together, they symbolize a willingness to stem the flow of waste and restore marine habitats.
Neptune's trident is a pocket commitment to defend the oceans.
Cast in sterling silver, it is the anchor of a rare hood with a deep profile that draws attention to a dangerous environmental imbalance.
The cap disk and the glass-zirconia caseback invite you to peer under the surface.
Each of them magnifies a point of value: the precious work of the Fondation and the edition number (300 pieces in two writing modes).
The Prince Albert II de Monaco Foundation manages and supports a wide range of targeted projects, awards and grants
the fight against climate change, the protection of biodiversity and the management of water resources.
Founded by S.A.S. Prince Albert II of Monaco to protect the environment and promote sustainable development, since 2006 the Fondation has been operating locally and globally, supporting research programs,
innovation and social awareness, both public and private.
Montegrappa is honored to collaborate with the Foundation and to contribute to its efforts with the proceeds of this edition.
Special thanks to Dr. Marco
Colasanti, President of the Italian section of the Foundation, for his role in contributing to the realization of this initiative.