Aureus - Limited Edition
Limited Edition - Aureus -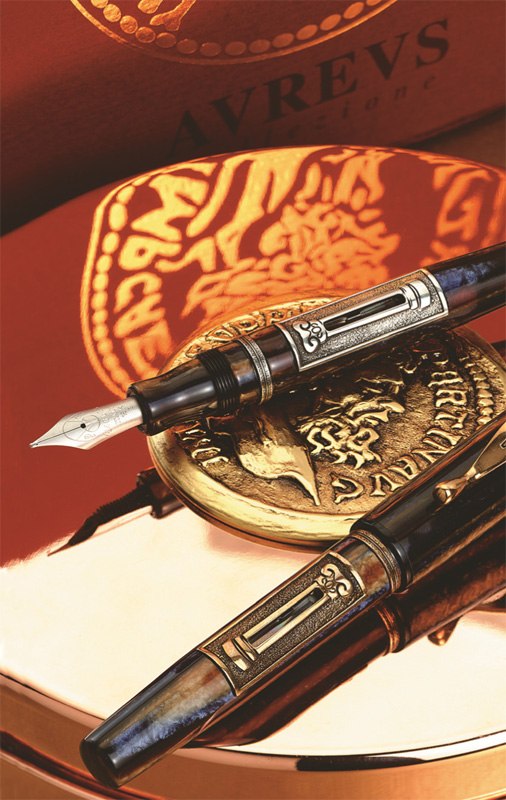 DURING THE ROMAN EMPIRE, AN INTERNATIONAL CURRENCY WAS IN USE: AUREUS (DANARIUS AUREUS).
INNOVATIVE MULTI-COLORED STRIPPED CELLULOID FOUNTAIN PEN WHICH PORTRAYS A HARMONIOUS BLEND OF COLORS
FROM PURPLE TO GOLDEN BRONZE AND FROM AUBERGINE TO COBALT BLUE.
IT'S ADORNED IN BRONZE AND SILVER (AND GOLD), BESTOW ITS WARM LOOK AND UNIQUE DESIGN. THE TOP OF THE
CAP IS FINISHED WITH AN AUREAN COIN. THE CLIP IS FIXED WITH TWO NAIL-PEGS
WHICH WAS CHARACTERISTIC OF THAT EPIC ROMAN PERIOD.
THE FILLING SYSTEM IS LATERAL COIN FILLING; THE ORIGINAL DECORATIVE DESIGN AROUND THE COIN FILLER'S OVERLAY ON THE
BARREL REPRESENTS A STYLIZED MARLEN COLUMN.
THE PEN COMES IN A SPECIAL METALIC COIN SHAPED BOX, COMPLETED WITH A SCULPTURED COIN
ON TOP, (IN GOLD, IN BRONZE OR IN SILVER - DEPENDING OF THE PEN).
IT CONTAINS ALSO A HISTORICAL PRESENTATION BOOKLET ABOUT THE ROMAN EMPEROR PERTINAX, WHO COINED THE AUREUS, PLUS A SPECIAL SCULPTURED
COIN TO WORK THE UNIQUE LATERAL FILLING SYSTEM (IN GOLD, IN BRONZE OR IN SILVER).