Montegrappa - Bartolomeo Ferracina - Limited Edition
Montegrappa - Bartolomeo Ferracina - Limited Edition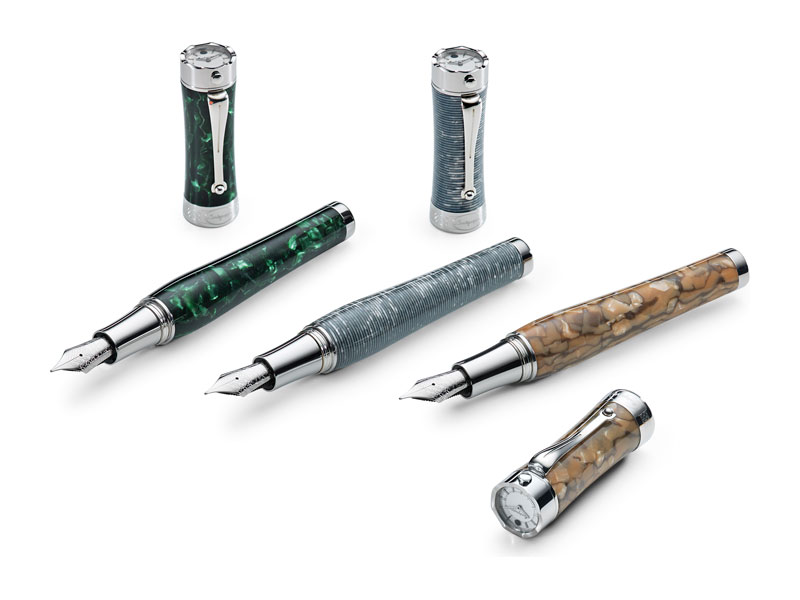 Concomitant with his stature, the pen collection dedicated to Bartolomeo Ferracina introduces a brand-new silhouette for a Montegrappa writing instrument.
It is, appropriately, voluminous and as imposing as the immense tribute of Ferracina to the art of watch-making and to the science of engineering.

Offered strictly as a fountain pen, the Ferracina limited edition exists in a total of 300 pens.
It is produced in a series of only 100 unique items in each of the three colours of pearlised celluloid: a rich Malachite Green, Shiny Circles made up of shades of grey and Indian Rainbow in beige hues, all with a Sterling Silver trim.

Each pen is fitted with an 18k gold filigree-etched nib, available in the grades of Fine, Medium and Large.
The nib's filigree decoration is also found on the cap's lower band, which also hosts the Montegrappa logo. The signature clip with the traditional rotating sphere reflects the sinuous curves of the new body form.

Aptly adorning the top of the cap is the perfect homage to Bartolomeo: it contains a functioning watch with a 16 mm diameter, which is detachable from the cap top.
It contains a MIYOTA slim quartz movement, its octogonal-shaped crown positioned directly above the pocket clip.

Time-keeping, mechanical ingenuity and manufacture taking place entirely in Bassano del Grappa, all in one pen: there can be no better homage to Bartolomeo Ferracina.